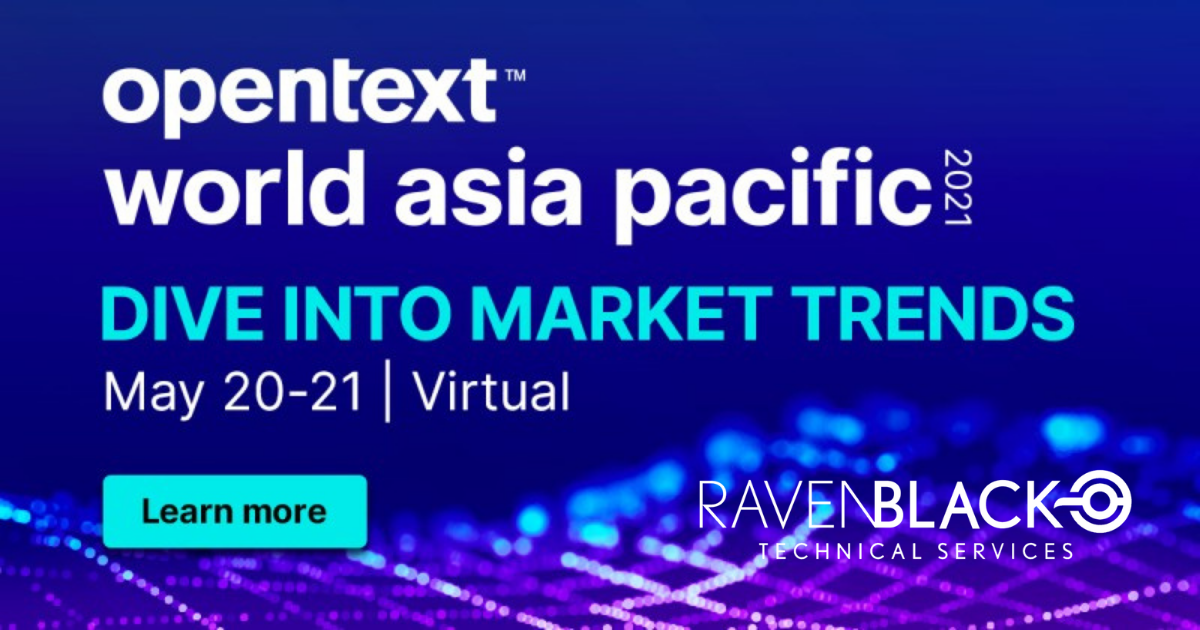 We are sponsoring OpenText World again! OpenText World Asia
We've been really busy this year at Ravenblack. We announced two new product releases, joined OpenText World Europe, and now we'll soon attend Enterprise World Asia as an Expert Sponsor, again.
Despite how busy we've been, we've also learned so much. At OpenText World Europe, we had the opportunity to get the latest insights about digital transformation, network with industry leaders, and experience the latest OpenText products and solutions. At OpenText World Asia, we expect to learn so much more.
At the event, OpenText will explore how information management and cultures of knowledge enable today's work, modern experiences, connected supply chains, and cybersecurity. They'll also cover how IT allows businesses to grow, scale, and be efficient for the long term. We're also really excited to hear OpenText introducing the latest OpenText Cloud innovations, new strategies to transform business, and how to take advantage of current and future disruptions.
With our attendance also comes a Ravenblack presentation. Read on to find out more.
What is Ravenblack going to present at OpenText World Asia?
Reinventing Content Server application development with the Productivity Suite
We will introduce you to the Ravenblack Productivity Suite for WebReports. As the original developer of OpenText WebReports, we at Ravenblack have developed a suite of three brand new, complimentary products to dramatically improve the ease and cost-effectiveness of developing and maintaining WebReports based developments.
Hundreds of customers have already discovered how Content Intelligence (WebReports) technology allows you to adapt your Content Suite system to specific business needs and workflows. The "Content Server Application" approach to customization has been used for everything from simple reports to wholesale applications managing critical business functions. Over the last 20 years, since these products were originally created, the capability of this technology has grown to a point where applications have become more difficult and complicated to maintain and support, particularly if someone else built the application for you!
In this presentation, we will talk about how you can continue to enjoy the power of these products while also being able to manage your applications easily and consistently. What's more, we will also talk about our learnings and the tools we've developed to create a mature and comprehensive development environment for this popular approach to Content Server development. We'll be highlighting a small selection of these features in the presentation that should be interesting for partners or customers working with Content Server.
These products will help you:
Save time developing, debugging, and maintaining individual WebReports or complex WebReports applications, using a development environment that is uniquely tailored to WebReports based development on Content Server.
Reduce system downtime required to deploy new WebReports technology by loading software drop-ins (sub-tags) without server restarts.
Shorten development cycles with a rich set of pre-written and tested sub-tags.
If you want to facilitate dramatic improvements to the creation and management of business-critical WebReports applications, click below to visit the new product page.
You may also want to examine our Multi-Agent scheduling solution for WebReports too.
Hope to meet with you again virtually at our booth!
Who's Ravenblack?
Ravenblack was founded by the original inventor (and long-term developer) of WebReports, ActiveView, and the Content Intelligence Suite. We have spent the last few years working to help customers to maximize their investment in these products and to ensure that this powerful technology is being used to full advantage while remaining performant, secure, and portable. Through this process, we have evolved a set of tools that enabled us to more easily support, audit, and maintain WebReport based applications.
Comments?
Head on over to LinkedIn to discuss this post!
About the author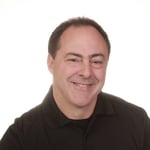 Greg Petti
Greg Petti was the founder of Resonate KT, the original WebReports/ActiveView company. Greg created the first version of WebReports and was heavily involved in all aspects of development, support, training and services related to the RKT products (Content Intelligence). He launched Ravenblack Technical Services in 2019 to focus on working with OpenText Content Suite customers to help them fully realize the value of Content Intelligence through services and products including advanced scheduling technology and a powerful development environment. Review our services below to learn more about how we help you, or contact me for more information.